The Canon TSE 24mm Mk II f3.5L Lens from
£1694.00
- UK stock prices, reviews and vouchers.
I try to only list UK stock suppliers, but you may like to check out Hong Kong based
Onestop Digital
and
DigitalRev
.
Welcome To Camera Price Buster
The Specialist UK Photography Price Comparison Site
Start comparing UK stock prices on over 2500 products by selecting a manufacturer on the left hand side, or by searching the site
here
.
Log in
here
, or become a registered user
here
and set up your own customised home page with a watch list of the products you want.
Download our
Android App
and widget, to check prices and monitor your watch list on your Android phone or tablet.
I want this site to give you what you want, so please make any suggestions by contacting me
here
.
This site uses cookies - please see our
cookie and privacy policy
for details. Continuing to use the site indicates you are happy with this.








Canon TSE 24mm Mk II f3.5L Lens Specifications
Angle of view (horzntl, vertl, diagnl): 74° 53° 84°
Lens construction (elements/groups): 16/11
No. of diaphragm blades: 8
Minimum aperture: 22
Closest focusing distance (m): 0.21
Maximum Magnification: 0.34
Distance information: Yes
Filter diameter (mm): 82
Max. diameter x length (mm): 88.5 x 106.9
Weight (g): 780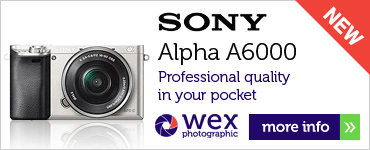 Canon TSE 24mm Mk II f3.5L Lens
Lowest Price History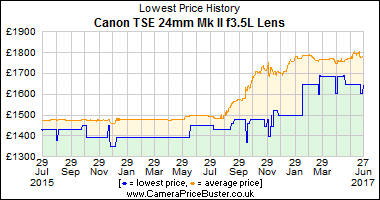 | Lowest Price History | Price | When |
| --- | --- | --- |
| Current Lowest Price | £1694.00 | 8 Dec 2013 |
| Best Ever Lowest Price | £1357.71 | 9 Jun 2012 |
| Lowest Price - Last 180 Days | £1629.00 | 30 Jun 2013 |
| Worst Ever Lowest Price | £1829.00 | 14 Jan 2010 |
Camera Price Buster User Reviews
Canon TSE 24mm Mk II f3.5L Lens
Average Rating: Excellent

based on 1 reviews. Click
here
to add your own review.
Review by Rob Brown on 2nd December 2012
Rating: Excellent

If you shoot architecture or interiors you need this lens. Most already know this. Certainly it will not disappoint. It does what it says on the tin and it keeps on doing it. If you came from 5x4 you will adapt pretty quickly and recreate what you were doing with Schneider lenses. Certainly its almost as sharp and there is negligible bowing. Its reckoned to be one of the sharpest lenses in Canons stable and it will give the irresistible stars on sharp lights. Its irritating that its almost £500 more expensive that Nikons 24mm shift which is equally beautifully sharp and I realise that youre paying for the independent rotation between Tilt and shift. Thing is, hardly anyone uses the tilt on this focal length.
That said, you know that this is a tool for a specific job and so you will buy it.Sure you can buy a Mark one on Ebay but theres no comparison. All you need to know is that in the right hands this lens will take astounding photographs, it has more shift than youd expect and is only surpassed by large format technical lenses which given the cost of the necessary kit make this lens look a bargain.
---
About Camera Price Buster
Camera Price Buster is a specialist price comparison service for UK photographers. Use this site to save time when looking for the best price for a specific camera, lens, flash etc. I try to only list shops that sell genuine UK stock. Please note that I do not sell anything myself.
I list most shops that sell UK stock, but cannot list them all - sometimes for technical reasons, and sometimes because they don't want to be listed.
Although I try to ensure that the listings are accurate, there will be mistakes and prices change all the time - please double check that the product you click through to is the one you want at the price you want.
More information about Camera Price Buster can be found here.