The Canon EF 50mm f1.8 II Lens from
£82.00
- UK stock prices, reviews and vouchers.
I try to only list UK stock suppliers, but you may like to check out Hong Kong based
Onestop Digital
and
DigitalRev
.
Welcome To Camera Price Buster
The Specialist UK Photography Price Comparison Site
Start comparing UK stock prices on over 2500 products by selecting a manufacturer on the left hand side, or by searching the site
here
.
Log in
here
, or become a registered user
here
and set up your own customised home page with a watch list of the products you want.
Download our
Android App
and widget, to check prices and monitor your watch list on your Android phone or tablet.
I want this site to give you what you want, so please make any suggestions by contacting me
here
.
This site uses cookies - please see our
cookie and privacy policy
for details. Continuing to use the site indicates you are happy with this.








Canon EF 50mm f1.8 II Lens
Lowest Price History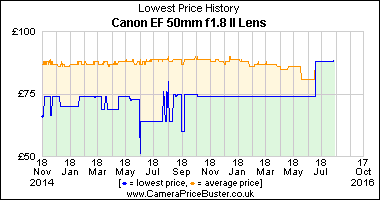 | Lowest Price History | Price | When |
| --- | --- | --- |
| Current Lowest Price | £82.00 | 20 May 2013 |
| Best Ever Lowest Price | £47.99 | 8 Jan 2008 |
| Worst Ever Lowest Price | £89.99 | 3 Jun 2010 |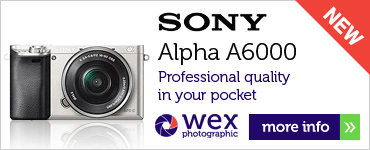 Camera Price Buster User Reviews
Canon EF 50mm f1.8 II Lens
Average Rating: Excellent

based on 6 reviews. Click
here
to add your own review.
Latest review by Ludwig on 31st March 2013
Rating: Excellent

Great little fella, sharp as it can be, good and quick focus. A bit noisy, but hey I paid 82£ for it.

If you never used a prime, this should be one of the first to get.


---
About Camera Price Buster
Camera Price Buster is a specialist price comparison service for UK photographers. Use this site to save time when looking for the best price for a specific camera, lens, flash etc. I try to only list shops that sell genuine UK stock. Please note that I do not sell anything myself.
I list most shops that sell UK stock, but cannot list them all - sometimes for technical reasons, and sometimes because they don't want to be listed.
Although I try to ensure that the listings are accurate, there will be mistakes and prices change all the time - please double check that the product you click through to is the one you want at the price you want.
More information about Camera Price Buster can be found here.