The Nikon SB-400 Speedlight from
£108.29
- UK stock prices, reviews and vouchers.
I try to only list UK stock suppliers, but you may like to check out Hong Kong based
Onestop Digital
and
DigitalRev
.
Welcome To Camera Price Buster
The Specialist UK Photography Price Comparison Site
Start comparing UK stock prices on over 2500 products by selecting a manufacturer on the left hand side, or by searching the site
here
.
Log in
here
, or become a registered user
here
and set up your own customised home page with a watch list of the products you want.
Download our
Android App
and widget, to check prices and monitor your watch list on your Android phone or tablet.
I want this site to give you what you want, so please make any suggestions by contacting me
here
.
This site uses cookies - please see our
cookie and privacy policy
for details. Continuing to use the site indicates you are happy with this.








Nikon SB-400 Speedlight
Lowest Price History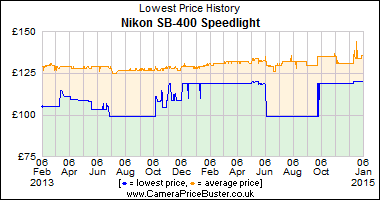 | Lowest Price History | Price | When |
| --- | --- | --- |
| Current Lowest Price | £108.29 | 20 May 2013 |
| Best Ever Lowest Price | £65.00 | 11 Jan 2008 |
| Worst Ever Lowest Price | £119.99 | 3 Mar 2011 |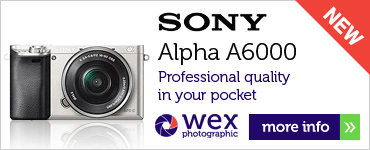 Camera Price Buster User Reviews
Nikon SB-400 Speedlight
Average Rating: Good

based on 3 reviews. Click
here
to add your own review.
Latest review by Angus Williamson on 3rd January 2011
Rating: Excellent

Update on my last comment re Camerabox. Yes it arrived OK on the 31st by City Link, but that was OK as only ordered on the 23d so delay expected. Looks a nice compact flash. I wanted this because the SB900 I have is not exactly a pocket sized model, this definitely is and performs well.
---
About Camera Price Buster
Camera Price Buster is a specialist price comparison service for UK photographers. Use this site to save time when looking for the best price for a specific camera, lens, flash etc. I try to only list shops that sell genuine UK stock. Please note that I do not sell anything myself.
I list most shops that sell UK stock, but cannot list them all - sometimes for technical reasons, and sometimes because they don't want to be listed.
Although I try to ensure that the listings are accurate, there will be mistakes and prices change all the time - please double check that the product you click through to is the one you want at the price you want.
More information about Camera Price Buster can be found here.