The Canon EOS 60D Body from
£585.00
- UK stock prices, reviews and vouchers.
I try to only list UK stock suppliers, but you may like to check out Hong Kong based
Onestop Digital
and
DigitalRev
.
Welcome To Camera Price Buster
The Specialist UK Photography Price Comparison Site
Start comparing UK stock prices on over 2500 products by selecting a manufacturer on the left hand side, or by searching the site
here
.
Log in
here
, or become a registered user
here
and set up your own customised home page with a watch list of the products you want.
Download our
Android App
and widget, to check prices and monitor your watch list on your Android phone or tablet.
I want this site to give you what you want, so please make any suggestions by contacting me
here
.
This site uses cookies - please see our
cookie and privacy policy
for details. Continuing to use the site indicates you are happy with this.








Canon EOS 60D Body
Lowest Price History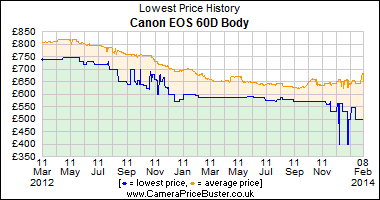 | Lowest Price History | Price | When |
| --- | --- | --- |
| Current Lowest Price | £585.00 | 19 May 2013 |
| Best Ever Lowest Price | £570.48 | 2 Jan 2013 |
| Worst Ever Lowest Price | £1099.00 | 27 Aug 2010 |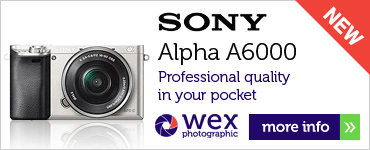 Camera Price Buster User Reviews
Canon EOS 60D Body
Average Rating: Excellent

based on 1 reviews. Click
here
to add your own review.
Latest review by Martin Eadon on 11th March 2013
Rating: Excellent

Great results. Isnt that what counts? Its a given with this type of camera. If they arent good, its time for the photgrapher to look again at their technique.

Another nice body from Canon, representing a good half-way-house between the entry level x0000 and x00 series and the likes of the 7D, 6D and 5D Mk III. Users stepping up, like me, will really appreciate the better ergonomics, the top plate LCD for the frequently used settings and the bigger brighter viewfinder image due to the proper pentaprism not the penta-mirror arrangement. Another small but great addition is the lock on the mode selector.

Construction is solid without being too weighty.

The only downside Im aware of is that apparently its not great for sports and action because of the limited number of focusing points.

With Canons typical joined up thinking, the same battery is used in the 60D, the 5D Mk II, the 6D and the 7D. So anyone moving up the range from the 60D can reuse their expensive spare batteries.

Obviously it works with both EF and EF-S lenses and can make really good use of L series and decent EF prime lenses. However with the availability of the 6D series as a mid-range full frame option, think carefully about the next possible move beyond the 60D before investing in EF-S lenses which dont fit full frame cameras....

About Camera Price Buster
Camera Price Buster is a specialist price comparison service for UK photographers. Use this site to save time when looking for the best price for a specific camera, lens, flash etc. I try to only list shops that sell genuine UK stock. Please note that I do not sell anything myself.
I list most shops that sell UK stock, but cannot list them all - sometimes for technical reasons, and sometimes because they don't want to be listed.
Although I try to ensure that the listings are accurate, there will be mistakes and prices change all the time - please double check that the product you click through to is the one you want at the price you want.
More information about Camera Price Buster can be found here.