Well, with Christmas approaching, a few people have been asking my advice on whether prices are likely to drop in the next few weeks.  Difficult to say, of course, on a per product basis.  However, as I have a lot of historical price data now, I thought I'd check to see if there were any obvious trends.  The following graph indicates in which week products first reached their yearly lowest price: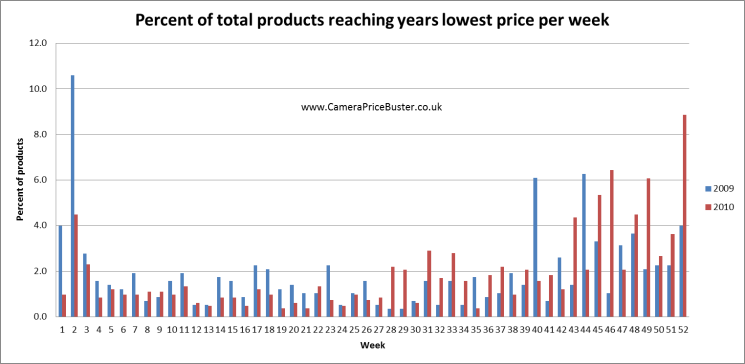 It certainly seems that the last few weeks of the year see a large number of products hitting their lowest price.  In some ways this is not surprising, given the long term trend for each product to get cheaper as it gets older.  And of course, the spike at the start of January is presumably the new year sales. 
One thing to bear in mind is that fluctuations in currency markets have an effect.  If the pounds buys you less in the currency of countries where the goods come from (notably japan) then imports become more expensive, and at some point the UK arms of the manufacturers adjust the UK price to reflect this.
I'll see if I can get time to produce another graph, showing how many products were at their lowest price per week (as opposed to how many first reached their lowest price)…..