Olympus have announced the intriguing OM-D E-M1 micro four thirds camera. Olympus state that the new OM-D E-M1 gives the best image quality of any consumer model they have made, and rivals the quality of a (full size) digital SLR – and all in a Micro Four Thirds size body. It certainly has an impressive list of stand out features, as follows.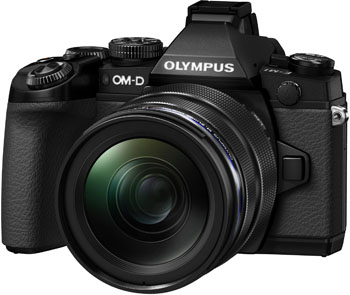 The Olympus OM-D E-M1 features a new 16-Megapixel Live MOS sensor and a new versions of their TruePic image processor. The OM-D E-M1 is flash, dust and freeze proof and has a rugged magnesium casing. Olympus have equipped the OM-D E-M1 with their fastest ever autofocus system, Dual Fast AF. This new system uses both phase detection and contrast autofocus, with the camera detecting which sort of lens you are using and switching automatically to the more suitable AF technology. It means you can use the native Micro Four Thirds lenses, and also Four Thirds lenses using an adapter. Four Thirds lenses work with phase detection, and Micro Four Thirds use contrast autofocus.
The OM-D E-M1 has an electronic viewfinder, which provides 1.48x magnification and has a 2,360,000-dot resolution. The new viewfinder has a HDR Preview Mode which allows you to monitor HDR images in the EVF before you shoot. You can experiment with four key settings before shutter release: aspect ratio, magnification, colour and highlight & shadow.
Built in image stabilisation is provided with the Olympus Hybrid 5-axis Image Stabilization system, which compensates for movement around the axis of the lens as well as horizontal and vertical shift, and the usual yaw and pitch. The Olympus OM-D E-M1 has built-in WiFi, which allows you to remotely control the camera via your smartphone as well as to wirelessly transmit images. It also allows 10fps sequential shooting for capturing high-speed subjects.
The recommended price for the Olympus OM-D E-M1 Body is £1299.99. There will also be lens kits with the M.ZUIKO DIGITAL 12-50mm 1:3.5-6.3 lens, and with the new M.ZUIKO DIGITAL 12-40mm 1:2.8 lens. It is expected to be in the shops around mid-October 2013. If you pre-order before the camera goes on sale, you can get the HLD-7 vertical grip free of charge. If you purchase the E-M1 by November, you can claim the MMF-3 Four Thirds adapter worth approximately £179.
You can view the Olympus press release here.
A new high end lens has been announced to complement the E-M1: the Olympus M.Zuiko Digital ED 12-40mm F2.8 'Pro' zoom.