The Canon Speedlite 430EX II from
£204.95
- UK stock prices, reviews and vouchers.
I try to only list UK stock suppliers, but you may like to check out Hong Kong based
Onestop Digital
and
DigitalRev
.
Welcome To Camera Price Buster
The Specialist UK Photography Price Comparison Site
Start comparing UK stock prices on over 2500 products by selecting a manufacturer on the left hand side, or by searching the site
here
.
Log in
here
, or become a registered user
here
and set up your own customised home page with a watch list of the products you want.
Download our
Android App
and widget, to check prices and monitor your watch list on your Android phone or tablet.
I want this site to give you what you want, so please make any suggestions by contacting me
here
.
This site uses cookies - please see our
cookie and privacy policy
for details. Continuing to use the site indicates you are happy with this.








Canon Speedlite 430EX II
Lowest Price History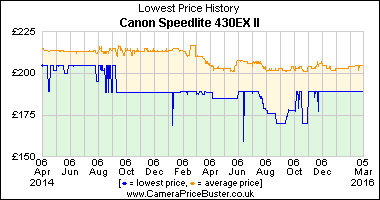 | Lowest Price History | Price | When |
| --- | --- | --- |
| Current Lowest Price | £204.95 | 24 Apr 2014 |
| Lowest Price - Last 180 Days | £162.92 | 5 Dec 2013 |
| Lowest Price - Last 365 Days | £162.92 | 5 Dec 2013 |
| Best Ever Lowest Price | £149.99 | 31 Dec 2010 |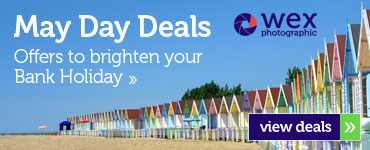 Camera Price Buster User Reviews
Canon Speedlite 430EX II
Average Rating: Excellent

based on 1 reviews. Click
here
to add your own review.
Review by Steve Gale on 22nd January 2014
Rating: Excellent

Bought to work with my Canon 50D I have been very impressed with this Speedlite right from the first shot. It integrates with the cameras own controls via the rear screen so it is easy to control both the camera and the flash together.

Recycle time is good and I have had no problems with taking multiple shots on one set of NiMH batteries.

The quality of the photos really takes a jump when this flash is used off camera via a separate synch cord and some form of diffuser.

It also works well as a slave with one of the larger Canon Speedlites 580/600 etc. I have synched mine with an old Vivitar 283 I have had for 20+ years - works well in manual mode via an optical trigger, but not in ETTL.

The only downside I can see is the likelihood of buying just a few more accessories .....


---
About Camera Price Buster
Camera Price Buster is a specialist price comparison service for UK photographers. Use this site to save time when looking for the best price for a specific camera, lens, flash etc. I try to only list shops that sell genuine UK stock. Please note that I do not sell anything myself.
I list most shops that sell UK stock, but cannot list them all - sometimes for technical reasons, and sometimes because they don't want to be listed.
Although I try to ensure that the listings are accurate, there will be mistakes and prices change all the time - please double check that the product you click through to is the one you want at the price you want.
More information about Camera Price Buster can be found here.